Want to Increase Energy Efficiency? Consider These 4 Home Improvement Projects
Home improvement projects that increase energy efficiency also provide payback for your effort and expense. There's probably a lot you can do around the home to make more room, upgrade the quality of life and generally enhance aesthetics. However, virtually any improvement you can make in the way your home consumes and conserves energy will make lower utility bills. Insulating a crawl space may not have the same appeal as new kitchen countertops, but it pays back savings over the long run that can always be put to use to make other improvements.
What's Your Status Quo?
First, create a long-term energy strategy. A home energy audit conducted by an HVAC professional will assess your home and identify efficiency weak spots. Using methods like blower door tests for air leakage and infrared imaging, the auditor will create an efficiency profile of your home and make suggestions to increase energy efficiency with emphasis on areas that require priority attention.
Attic
In winter, warmth in living spaces conducts through the ceiling or seeps through air leaks into the attic. Heating costs go up as the furnace works overtime. During summer, attic temperatures can approach 150 degrees, forming a heat reservoir that radiates down into rooms below and overworks the air conditioner.
You may already know the attic needs attention if certain rooms seem stubbornly hard to heat or chronically resistant to cooling. Your heating and cooling bills may be going through the roof, too.  If you're experiencing water damage from ice dams during winter, that could be another sign that lost heat from the furnace is winding up in the attic.
Check for direct air leaks by turning on lights in rooms below, then climbing into the darkened attic and looking for light leakage that indicates cracks or gaps. Some of the common suspects for attic air leaks include:
The joint between walls and the ceiling
Around recessed ceiling lights
Openings where vent pipes or electrical conduits pass into the attic
The frame around the attic hatch or pull-down stairs
Use standard household silicone caulk to fill 1/4-inch gaps or polyurethane spray foam for larger openings. Gaps around attic hatches and stairs can be sealed with adhesive-backed foam weatherstripping tape.
If your house was built in the 1980s or before, it's probably under-insulated by current Department Of Energy (DOE) standards. You can find out simply by measuring the depth of the installed insulation with a ruler. In our Chicago climate, the DOE recommends attic insulation to a minimum depth of 12 inches up to 18 inches for standard fiberglass batts or 10 to 16 inches of loose-fill cellulose. Anything less and you're living in the 1980s, but paying 2014 energy bills.
The attic is the easiest place in the house to upgrade insulation and increase energy efficiency. Roll-out fiberglass batts are pre-cut to fit neatly between attic joists with the paper vapor barrier side facing down. However, if you're placing new fiberglass atop old, you'll want to use batts with no vapor barrier and lay them perpendicular to existing insulation. Add batts thick enough to increase the total depth to meet minimum standards.
Cellulose insulation is a loose-fill product composed of pulverized paper and cloth. Installed in the attic, it looks like a heavy snowfall covering the floor and joists. Because it gets into every small odd-shaped space, it provides more uniform coverage than fiberglass batts. Cellulose is blown into attic spaces through large diameter air hoses, metered by a mechanical hopper. The work requires specialized equipment and expertise, so cellulose insulation isn't a DIY option for most homeowners.
Basement and Crawl Space
The basement and crawl space don't get many visitors but are worthwhile targets to increase energy efficiency. To save construction costs, basements and crawl space areas are often left completely uninsulated. Cold floors, inconsistent comfort, high utility bills are all signs of a basement or crawl space that needs attention.
A crawl space may also be chronically damp, leading to mold growth and pests. Insulating the underside of your subfloor —that's the basement or crawl space ceiling—is the best remedy to increase energy efficiency and prevent heat transfer into or out of these areas.
Seal any direct air leaks first. When the basement or crawl space is dark, turn on lights in rooms above and look for shafts of light. Feel for drafts or use the smoke from a stick of lit incense to detect moving air. Some of the common leak suspects include:
Along the joint where wooden framing contacts the foundation
Cracks or gaps between the joists
Where wiring or plumbing pipes penetrate the basement wall or foundation
Around the crawl space entry hatch
Close the gaps with silicone caulking or polyurethane spray foam. Weatherstrip the entry hatch with foam weatherstripping tape or vinyl or rubber bulb-type weatherstripping.
Insulation between joists should provide a total R-value of R-25 to R-30. For fiberglass batts, that's 8 to 10 inches. In the crawl space, rigid expanded polystyrene foam board (EPS) insulation can be installed by professionals and provides superior heat resistance and is unaffected by moisture that may degrade fiberglass batts.
Pre-cut batts are installed between floor joists by gently pushing the batts into the space with the paper vapor barrier facing up and contacting the subfloor of the home. To secure the batts in place, you'll need to staple plastic mesh or wooden lath at regular intervals.
Ducts
In the average home, at least 20 percent of conditioned air is lost through leaky ducts. Ductwork routed through unconditioned zones like the attic or crawl space can lose or gain heat simply by conduction. Leaky ducts can also depressurize the house, drawing hot or cold outdoor air inside and degrading indoor air quality.
A qualified HVAC contractor can perform a pressurization test to establish extent of duct leakage. By injecting artificial smoke into the pressurized ducts, they'll also be able to pinpoint the location of leaks. Typical necessary repairs to increase energy efficiency include the following:
Joints between duct segments will need to be sealed with mastic and/or metal tape.
Areas of rust or corrosion may be cut out and new ductwork spliced in.
In ductwork with pinhole leaks too numerous to seal individually, a professional can inject an aerosol spray sealant to coat interior duct surfaces.
Sagging or collapsed segments of flex duct will need to be supported and/or replaced.
Where ducts are routed through an unconditioned attic, basement or crawl space, the ductwork should be insulated to a value of R-6 to R-11, and basement or crawl space ducts to R-2 to R-11.
Doors, Windows and Walls
These can serve not only as portals to light, but also to heat gain and loss. Fortunately, material technology has kept up with the need to increase energy efficiency.
Energy efficient doors generally have three standout qualities:
Tighter fit tolerances and weatherstripping that incorporates a magnetic strip to seal with the door frame efficiently
An exterior cladding of fiberglass, wood or metal with core materials of an insulating material, such as polyurethane foam
Where the door incorporates a window, the glazing will be double- or triple-paned
Single-pane windows pass heat in and out of the house very efficiently. For your household energy efficiency, however, that's bad news. In many cases, having old, inefficient windows replaced by a professional is more financially cost-effective than attempting repair.
Energy conserving windows are rated by U-factor. The lower the U-factor, the more effectively the window will increase energy efficiency. In the Chicago climate, windows with a U-factor of 0.31 to 0.32 are considered energy efficient.
Efficient window glazings usually consist of multiple panes of low-E glass that reflects infrared heat, with the void between each pane filled with an inert gas like argon for reduced heat transfer. Frames are constructed of a weather-resistant material that doesn't conduct heat.
Wall insulation usually means fiberglass batts or cellulose loose-fill. In some cases, homes built in the 1960s or before may have no wall insulation at all. In our climate, the Department of Energy (DOE) recommends wall insulation to a minimum thickness of at least 5 inches of fiberglass or cellulose.
The best time to add or upgrade fiberglass wall insulation is during a renovation or remodel when the walls will be opened anyway or other major construction is underway. However, cellulose or spray foam insulation may be blown into empty wall voids by a professional crew through small access holes cut at regular intervals.
Accurately determining the level of wall insulation can be difficult. A home energy auditor can check insulation through small sample holes at inconspicuous places such as inside closets. More high-tech methods used by most professionals include infrared cameras that image heat transfer through walls and other solid materials to accurately distinguish the amount and quality of insulation.
For more information on home improvement projects to increase energy efficiency in your home, or for other home comfort concerns, contact Black Diamond Plumbing & Mechanical.
Image Provided by Shutterstock.com
Request Service
Please fill out the form and we will get in touch with you shortly. We look forward to serving you!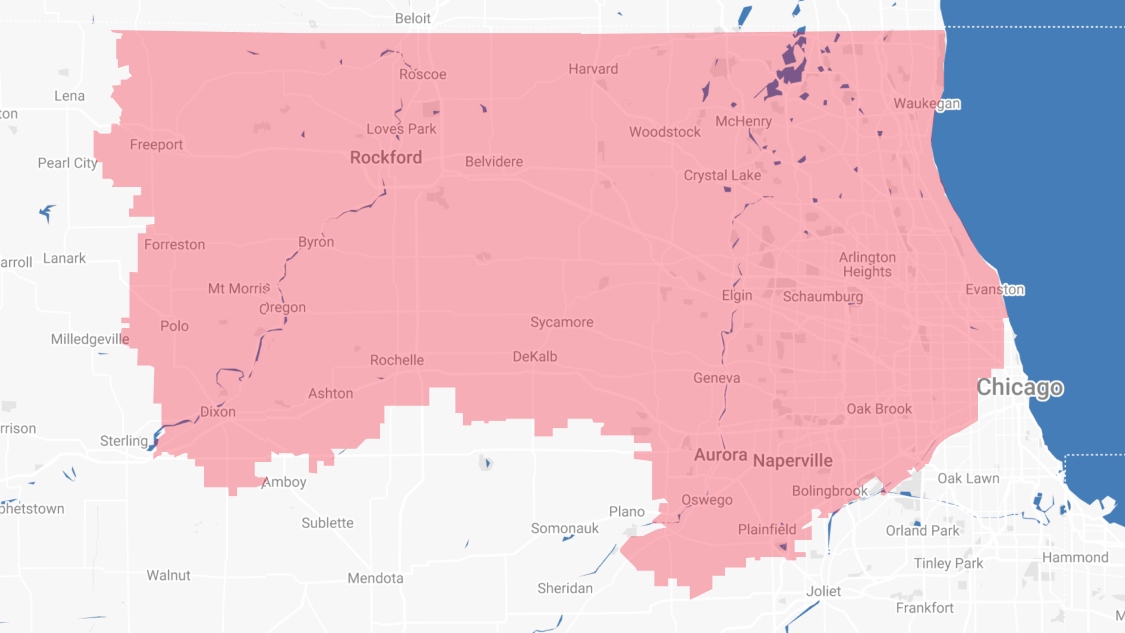 Proudly Serving
The Chicagoland Area
Addison | Algonquin | Antioch | Arlington Heights | Aurora | Barrington | Bartlett | Batavia | Beloit | Belvidere | Bensenville | Bloomingdale | Bolingbrook | Buffalo Grove | Byron | Caledonia | Capron | Carol Stream | And Much More!
VIew ALL