AC Repair in the Chicagoland Area
When your AC unit suddenly decides to take a break on the hottest summer day, Black Diamond Plumbing & Mechanical will be ready to restore your system and comfort. Since 1999, we've been the premier HVAC company in Chicagoland. We offer 24/7 emergency service, so our licensed technicians are one phone call away, day or night.
Call (866) 350-4793 to schedule prompt, reliable AC repair in McHenry, Crystal Lake, or nearby.
Signs You Need AC Repair
At Black Diamond, we understand that a malfunctioning air conditioning unit can cause great discomfort and inconvenience. If you notice any of these signs, call our team to schedule AC repairs:
Weak or no airflow from vents

Strange noises or smells coming from the unit

Uneven cooling throughout the house

Increased humidity levels indoors

High energy bills without a change in usage

The unit constantly turning on and off
Our expert technicians can diagnose and repair any issues with your AC unit, and we service all makes and models.
Expert AC Repair
At Black Diamond, no air conditioner problem is too small or complex for our qualified technicians. When you call for air conditioner repair, we'll arrive promptly with a complete inventory of replacement parts, ensuring minimal delays. A member of our team will thoroughly inspect your system and resolve the issue.
SCHEDULE NOW
AC Repair vs. Replacement
We understand that deciding whether to repair or replace your AC system can be difficult. Here are some factors to consider that can help you make an informed choice:
Schedule professional AC repairs if:

Your AC system is less than 10 years old.

The cost of the repair is less than half the cost of a new system.

The issue is minor and requires simple repairs.

Your system has been well-maintained.
Consider replacing your AC unit if:
Your AC system is over 10 years old.

The cost of the repair is more than half the cost of a new system.

Your system requires frequent repairs.

The system isn't energy-efficient and is driving up energy bills.

Your AC system isn't providing adequate cooling or heating.
Our experienced technicians can help you assess the condition of your AC system and provide expert guidance on whether to repair or replace it.
Call Black Diamond at (866) 350-4793 to schedule AC repair in the Chicagoland area.
The Benefits of Professional AC Maintenance
Regular AC maintenance is essential for keeping your system running efficiently, effectively, and safely. By investing in these services, you can enjoy lower energy bills, improved air quality, increased comfort, and a longer life span for your AC system, ultimately providing peace of mind.
Black Diamond Plumbing & Mechanical can help homeowners keep their ACs running effectively with regular maintenance, which includes cleaning, an inspection, and adjustments, to ensure peak performance and efficiency.
Save money and unlock exclusive discounts by signing up for our Crystal Club. Members can choose the perfect plan for their HVAC needs, and rest assured that their system will be ready to perform optimally.
Sign up for a Crystal Club membership or call (866) 350-4793 to learn more.
Emergency HVAC Services
Need a trusted expert to get your HVAC system back up and running, no matter the time of day? Look no further than Black Diamond Plumbing & Mechanical. We're available around the clock for emergency services. No matter the hour of day or night, our team will be available to restore your air conditioner to good working order.
Why Choose Black Diamond?
When you want to keep your HVAC system running at its best, turn to the experts at Black Diamond Plumbing & Mechanical. For over 20 years, we've delivered top-rated AC services throughout the Chicagoland area. When you hire us, you can expect: 
24/7 emergency service

Flexible scheduling, including Saturdays

Flat-rate pricing

No hidden fees or surprise charges

Courteous, professional technicians

And more
Call (866) 350-4793 to schedule a service with Black Diamond.
AC Repair FAQs
What air conditioner brands does Black Diamond service?
We proudly service all air conditioner brands.
How often should an air conditioner get regular maintenance?
When in frequent use, you should change your filter and inspect/clean your air conditioner once a month. However, we highly recommend scheduling a professional tune-up once a year.
How can I check if the air conditioner is still under warranty?
Most companies will allow you to verify your warranty coverage through their website or by calling their customer service department. So don't worry if you've lost the paperwork that came with your unit.
Is a bigger air conditioner a better air conditioner?
No. Bigger isn't always better. If your AC is too big for your home, you won't enjoy the cost savings and energy efficiency of an appropriately sized unit. If your AC is too small for your home, it will struggle and work overtime to keep you comfortable. This will increase wear and tear on the equipment.
If you're considering getting a new HVAC system, we highly recommend having one of our comfort consultants visit and recommend the best options for your home and budget.
Why isn't my house cooling off?
There are several reasons this could be happening. You could have a blocked condenser unit, a clogged refrigerant coil, blockages in your ducts, or a thermostat issue. 
Why is my air conditioner icing up?
AC systems can ice up when dirty air filters block air from moving over the refrigerator coil. In most cases, changing the filter resolves the problem.
Request Service
Please fill out the form and we will get in touch with you shortly. We look forward to serving you!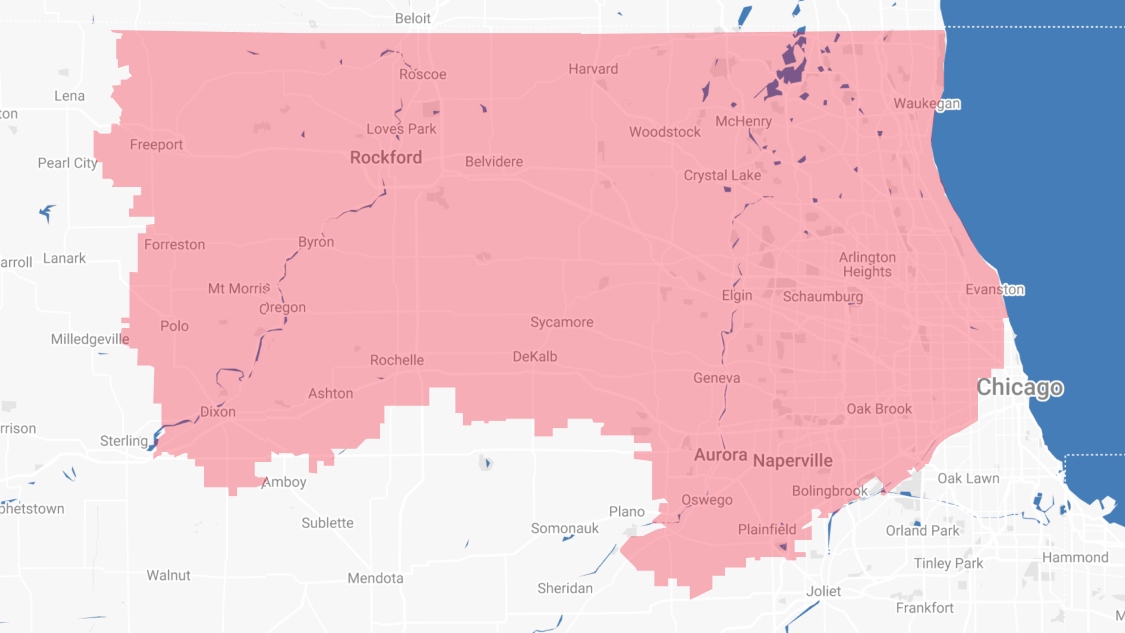 Proudly Serving
The Chicagoland Area
Addison | Algonquin | Antioch | Arlington Heights | Aurora | Barrington | Bartlett | Batavia | Beloit | Belvidere | Bensenville | Bloomingdale | Bolingbrook | Buffalo Grove | Byron | Caledonia | Capron | Carol Stream | And Much More!
VIew ALL