HVAC Repair in Chicagoland
Serving Crystal Lake & the Surrounding Areas
Is your HVAC system keeping your family as comfortable as possible? Is it offering reliable and efficient heating and cooling for your home? In the Chicago area, with our changing seasons, you need a reliable HVAC system and a team you can trust to keep your system up and running. For homeowners and business owners in Barrington, Naperville, Crystal Lake, McHenry, and the surrounding Chicago suburbs, Black Diamond Plumbing & Mechanical is here to serve with a team of licensed and trained HVAC technicians.
Call (866) 350-4793 or contact Black Diamond online to schedule HVAC repair!
SCHEDULE NOW
Trusted HVAC System Repair Services Near Chicago
When you need help with your home comfort systems, the Black Diamond team has a full list of HVAC repair services to assist you. From minor problems to complete system breakdowns, you can trust our team to get to the root of the problem and provide an affordable, effective repair solution. We've been helping the Chicago area with HVAC problems for years and are ready to provide experienced and knowledgeable service.
At Black Diamond, we understand that HVAC problems don't keep "normal business hours," and that's why we are available any time of the year, day or night. Whenever an HVAC problem strikes, you can call for our expert help.
Schedule emergency HVAC repair by calling (866) 350-4793.
How to Know Your HVAC System Needs Repair
Sometimes, calling for HVAC repair at the first sign of a problem can help you save time, money, and frustration by avoiding more serious problems or emergency repair needs. Some of the signs you should watch for that may indicate a problem include:
Uneven heating or cooling in your home
Unexpected or unusually loud sounds
Leaks or moisture around the system
Air conditioning system blowing hot air
Heating system blowing cold air
Unusual smells from the system
These signs and symptoms should not be ignored. If you do, you could end up with an HVAC emergency. Save yourself the frustration of an emergency or a full system breakdown by calling Black Diamond at the first sign of problems.
To learn more about our HVAC repair, call (866) 350-4793 to speak with our experts.
HVAC Maintenance Agreements
It's never good when HVAC units break down — not only is it inconvenient, but it can sometimes be expensive to replace! To reduce the likelihood of an unexpected HVAC problem, Black Diamond offers a maintenance agreement plan so you can ensure your system gets the attention it needs to perform well all year long. Preventative service is designed to uncover minor problems before they degrade system performance or cause a catastrophic failure. When you sign up for our Crystal Club program, you can ensure you are getting premium service and flat-rate pricing.
As a member, you can enjoy:
• Prescheduled heating and cooling tune-ups
• Discounts on repairs
• Discounts on duct cleanings and sealing services
• Waived holiday and after-hour fees
• Priority scheduling
• And more!
When you sign up for a maintenance service agreement, the hassle of scheduling service is behind you. We will call you to ensure we are inspecting your unit before the summer months begin, so you have an HVAC system that performs at peak efficiency all year long.
Schedule HVAC Repair in the McHenry Area with Black Diamond
Don't let a nonfunctional HVAC system keep you from enjoying comfortable temperatures. For prompt, reliable, and professional service, you need the skills of the team at Black Diamond. Our expert technicians will quickly assess the problem and offer their services to repair it, giving you back a fully functional system. If you're looking for the best HVAC repair "near me," choose Black Diamond.
For more information on our HVAC repair services, give us a call at (866) 350-4793 or contact us online!
Frequently Asked Questions About HVAC Repair in Naperville
Can I repair my furnace or air conditioner myself?
While it may be tempting to attempt DIY repairs or replacements to save money, the reality is that HVAC systems are complex machines. It's very easy to damage the system, create a dangerous fault, or injure yourself, so we strongly recommend hiring a professional, certified HVAC technician for all services and repairs.
What could cause a furnace to fail to light?
Furnaces may fail to light if the sensor or ignitor gets dirty. They can also fail to light if the filter is clogged, if there is an electrical fault, or if there are problems with the gas line or thermostat.
What does an HVAC repair include?
Our technicians perform a thorough inspection of your system's wiring, connections, and components. Our thorough inspection identifies the cause of the problem and will determine whether or not other components are damaged and nearing a point of failure.
Is it better to repair or replace an aging HVAC system?
HVAC technology is advancing rapidly, which means that newer, more energy-efficient models are becoming increasingly available. With prompt and regular repairs, your aging furnace, air conditioner, and other systems can continue operating for many years. However, when the repair cost exceeds 50% of the cost for replacement, we generally recommend replacing older units.
What are some warning signs my HVAC system needs repairs?
If you notice lukewarm air blowing from the registers, have a frequently short cycling system, or hear strange noises and smell odd smells, it's advisable to schedule a service appointment. The sooner you schedule repairs, the sooner you can enjoy reliable comfort.
What causes thermostat failure?
We often receive calls for service that have nothing to do with the furnace or air conditioner itself. Often, the problem is the thermostat. Thermostats often fail because of age, manufacturing defects, overheating, and sludge. Repairing or replacing a malfunctioning thermostat can quickly restore your comfort.
Do you have more questions about HVAC repairs in Illinois? Contact the HVAC professionals at Black Diamond by calling (866) 350-4793. It is our pleasure to give you reliable advice and guidance you can depend on for your comfort!
Request Service
Please fill out the form and we will get in touch with you shortly. We look forward to serving you!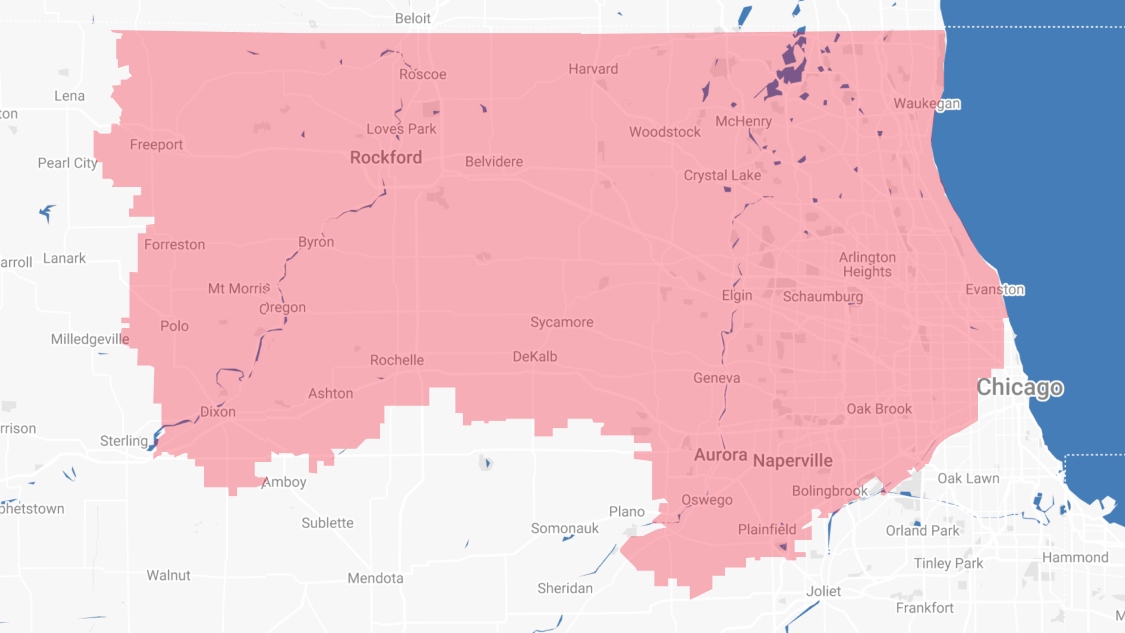 Proudly Serving
The Chicagoland Area
Addison | Algonquin | Antioch | Arlington Heights | Aurora | Barrington | Bartlett | Batavia | Beloit | Belvidere | Bensenville | Bloomingdale | Bolingbrook | Buffalo Grove | Byron | Caledonia | Capron | Carol Stream | And Much More!
VIew ALL