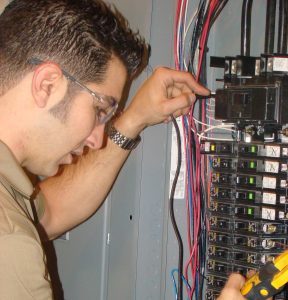 Picking the right electrician isn't just about price or availability. It's also about safety and doing the job right. You can't afford to put your family, your home or your business into the hands of just anyone who claims to be an electrician. You need to be sure that you're working with a qualified, trained, licensed pro.
Black Diamond Plumbing & Mechanical does the legwork for you by hiring only the best electricians in the Chicago area. All of our work meets national and local building codes for your peace of mind and protection. We also stand behind our service with a quality guarantee. In Barrington, IL, and the surrounding Chicago suburbs, Black Diamond Plumbing & Mechanical has you covered.
Are you looking for trusted electricians in McHenry, Naperville, Crystal Lake, Barrington, and surrounding areas? Call us now at (866) 350-4793 or contact us online and schedule your electrical services now!
The Best Electricians in McHenry, IL
Older homes and buildings across Crystal Lake and McHenry still contain old wiring and electrical systems that just can't meet the demands of today's appliances and electronics. Whether you're making your home more livable or starting from scratch with custom construction, Black Diamond Plumbing & Mechanical can help. Our full array of residential and commercial electrical services include:
Finishing basement or attic spaces
Upgraded wiring, outlets and light switch replacement in older homes
New data and phone lines
Emergency lighting
Parking lot lighting and sign repair
Machinery wiring
Lighting motion sensors
Installation, repair, and maintenance for generators, including:
Automatic home standby generators
Home generators
Whole house generators
Natural gas generators
Propane generators
LP generators
To schedule electrical maintenance in Chicago, McHenry, or the surrounding areas, contact us online now!
Electrical Repairs in the McHenry, IL Area
When you are having electrical problems, Black Diamond is just a phone call away. Same-day electrical repair appointments are often available, and our extended business hours, 7 a.m. to 7 p.m. Monday through Saturday, work with just about any schedule.
A Black Diamond employee will be available to you by phone 24 hours a day, 365 days a year whenever an electrical emergency arises. We use a flat rate pricing plan and provide free estimates on installs or replacements, so you'll always know the cost up front — before the work begins.
To schedule electrical repairs in Chicago, call Black Diamond now at (866) 350-4793!
Why Choose the Electricians at Black Diamond?
Whether you're dealing with a tripped breaker due to a faulty surge protector, a bad ground fault circuit interrupter (GFCI), or a complete electrical meltdown, Black Diamond is on the case. If you can think of it, our electricians can make it happen.
We'll wire your new ceiling fans, complete your re-wiring and remodeling project, hook up your emergency generator and do switch swap-outs for room sensors that automatically turn the lights on and off. Black Diamond has providing electrical services to Chicago, IL, and the Chicago suburbs for years. We're ready to get to work to brighten up your life.
If you're in need of electrical services in McHenry, Naperville, Barrington, Crystal Lake, or the surrounding area, give us a call at (866) 350-4793 or contact us online and schedule your service now!
Proud to offer products from the following companies: