Commercial HVAC Services in Chicagoland
Serving Crystal Lake & the Surrounding Areas
For Naperville business owners, keeping your facility in good working order is about more than just your comfort; it's about your reputation. When your heating, air conditioning, or ventilation system is not working properly, your employees, customers, and clients can't be comfortable. This can cause discontent and, in the case of customers and clients, may encourage them to look elsewhere for their services.
For businesses in the Chicago suburbs, Black Diamond Plumbing & Mechanical is here to ensure that your HVAC systems are working properly and keeping your customers and clients as comfortable as possible. Our comprehensive commercial HVAC services in the Naperville area allow you to focus your efforts not on the comfort of those in your facility but on delivering the products and services you are known for.
Interested in scheduling commercial HVAC services? Call (866) 350-4793 or fill out a contact form today!
SCHEDULE NOW
Commercial HVAC Repair in the Naperville Area
Our team of courteous and professional HVAC technicians is here to keep your HVAC system up and running again. We understand the complexity of large commercial systems and are ready to assist you no matter the time or day.
Our repair services include:
Flat-rate pricing during extended business hours (7 a.m. to 5 p.m. Monday through Saturday)
NATE-certified HVAC technicians
A satisfaction guarantee
Emergency repairs any time or day
When you turn to Black Diamond Plumbing & Mechanical for your business's heating and cooling needs, you can be confident that we will offer you a high level of professionalism and industry knowledge.
Contact us today to schedule commercial HVAC repair!
Commercial HVAC Maintenance for Naperville Area Businesses
While the Black Diamond team is here to assist when you have HVAC problems, we believe maintenance is key to preventing breakdowns. That's why we offer commercial HVAC maintenance services. When you partner with Black Diamond to maintain your system, we will check it regularly to ensure it is working as it should. Our maintenance visits include:
Ensuring system optimization
Checking all connections
Cleaning the system
Testing the system for efficiency
Assessing refrigerant levels and filter condition
Replacing filters when needed
In the end, you will be left with an HVAC system you can be confident will deliver reliable heating and cooling to your customers and employees. We recommend a routine maintenance check at least two times a year, but you can talk to our team about a schedule that works well for your needs and the demand of your facility.
Schedule commercial HVAC maintenance by calling Black Diamond at (866) 350-4793.
Commercial HVAC Installation & Replacement
Sometimes, repairing your system is not the most cost-effective option. Instead, you need to have a new system installed in your home. Black Diamond Plumbing & Mechanical is here to assist you with this as well. We can provide you with a new, high-efficiency system that will provide many years of reliable service for your business and install it accurately with all of the additional components, like digital thermostats, that ensure efficiency and proper function.
Ready to make your business more comfortable? Call (866) 350-4793 today!
Trust Black Diamond for Your Commercial HVAC Needs in the Barrington or Naperville Areas
Whether you need a tune-up to ensure the efficiency of your HVAC system, have a problem you need to be repaired, or are looking for installation help, Black Diamond Plumbing & Mechanical is ready to partner with you. Because we feature a full array of heating and cooling services such as commercial HVAC installation, replacement, repairs, and maintenance, you know you can always depend on us for all of your comfort needs. Let our certified and trained technicians take care of your business today!
Contact us online or call (866) 350-4793 for a free estimate on any of your commercial installation or replacement needs!
Commercial HVAC FAQs
Which commercial HVAC system is best for my property?
The answer to this question depends on the size and function of your commercial business property. The best way to select a commercial HVAC system is to work with a knowledgeable contractor who can help you choose from the different options on the market. The unit needs to fit the size and scope of your business to keep your property comfortable.
What is the life expectancy of a commercial HVAC unit?
Like home HVAC systems, commercial systems typically last between 15 and 20 years. Proper maintenance can help lengthen that expected life span.
What are the benefits of commercial HVAC maintenance plans?
By investing in maintenance for your commercial HVAC system, you will benefit from:
A longer system life span
Fewer breakdowns
Less downtime
Reduced risk of needing to make a repair
Improved efficiency for your HVAC system
Lower potential energy bills
Request Service
Please fill out the form and we will get in touch with you shortly. We look forward to serving you!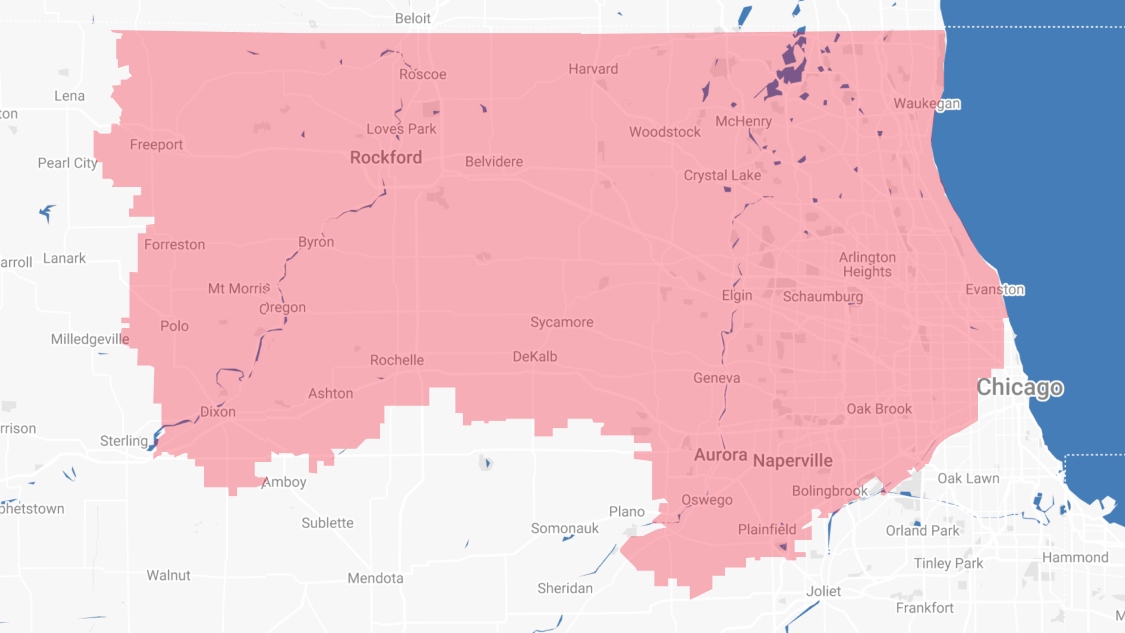 Proudly Serving
The Chicagoland Area
Addison | Algonquin | Antioch | Arlington Heights | Aurora | Barrington | Bartlett | Batavia | Beloit | Belvidere | Bensenville | Bloomingdale | Bolingbrook | Buffalo Grove | Byron | Caledonia | Capron | Carol Stream | And Much More!
VIew ALL