Tankless Water Heater Installation & Repair in the Chicago Area
With a virtually unlimited supply of hot water, tankless water heaters are a popular upgrade for homes throughout the Chicago area. Whether you are interested in installing a new tankless water heater, you need one replaced, or you need water heater repairs, you can turn to our team at Black Diamond Plumbing & Mechanical for fast, professional help.
Our company has been serving the Chicago Metro area since 1999, and we offer a full line of plumbing, heating, air conditioning, and electrical services. We are here to help with all your tankless water heater needs, including repairs and installations, and all our work is backed by a 100% satisfaction guarantee.
Need help with your tankless water heater? Call (866) 350-4793 or contact us online to schedule water heater services with our dependable plumbers.
Benefits of Tankless Water Heaters
Unlike traditional water heaters that include a storage tank, tankless water heaters apply heat only when the hot water is being actively used. By eliminating the storage tank, tankless water heaters can offer several benefits:
No standby losses from maintaining stored water temperature
Smaller size that can fit in far more locations
Easier installation due to size and flexible mounting options
Lower energy usage and utility bills than traditional water heaters
Virtually unlimited hot water when sized and installed correctly
Nearly double the service life of traditional water heaters, or about 25 years
Gas and electric models available
For many homes, tankless water heaters are a smart upgrade. To learn if your home can benefit from a tankless water heater, talk to our experts at Black Diamond today by calling (866) 350-4793 or contacting us online.
SCHEDULE NOW
Tankless Water Heaters vs. Traditional Water Heaters
Tankless water heaters can be a great way to save space and energy, but they can also have drawbacks compared to traditional water heaters. Storage tank water heaters tend to be about half the cost of tankless water heaters, plus new installations of tankless water heaters often require upgrades to the electrical or gas service. Storage water heaters are less costly upfront, and they offer relatively good efficiency using proven technologies. Tankless water heaters offer almost twice the life span, however, and once the higher initial costs are earned back through lower utility bills, they can continue to save you money while providing almost limitless hot water.
Need help choosing between tankless and traditional water heaters? Call (866) 350-4793 or contact us online for honest, realistic advice from our professional plumbers.
Choose Black Diamond for Tankless Water Heater Services
When you need a qualified professional to install, service, or repair your tankless water heater, choose our proven experts at Black Diamond. We offer
Tankless water heater installation & replacement
Tankless water heater repair
Tankless water heater maintenance
Our company offers superior service, a 100% satisfaction guarantee, and 24/7 availability for help with all your most critical plumbing problems.
Call us at (866) 350-4793 or contact us online to request water heater services.
Frequently Asked Questions About Tankless Water Heaters
How often must tankless water heaters be serviced?
At Black Diamond, we recommend annual service for your tankless water heater. This will typically include cleaning the burners on gas water heaters or testing the heating elements on electric models, testing the thermostat and controls, and flushing sediment out of the heat exchanger.
Can tankless water heaters run out of water?
Yes, under high demand, tankless water heaters can fail to keep up with hot water usage. This can be virtually eliminated by sizing the system properly or installing more than one tankless water heater for larger homes or high-demand locations.
Do tankless water heaters provide instant hot water?
No, it takes a few moments to heat the water, as well as additional time to flush any water that has cooled out of the lines between the heater and the fixture. To minimize the time it takes to receive hot water at your faucets, a recirculation system can be added or point-of-use water heaters can be installed.
Do you have more questions about tankless water heaters? Talk to our experts today by calling (866) 350-4793 or contacting us online.
Request Service
Please fill out the form and we will get in touch with you shortly. We look forward to serving you!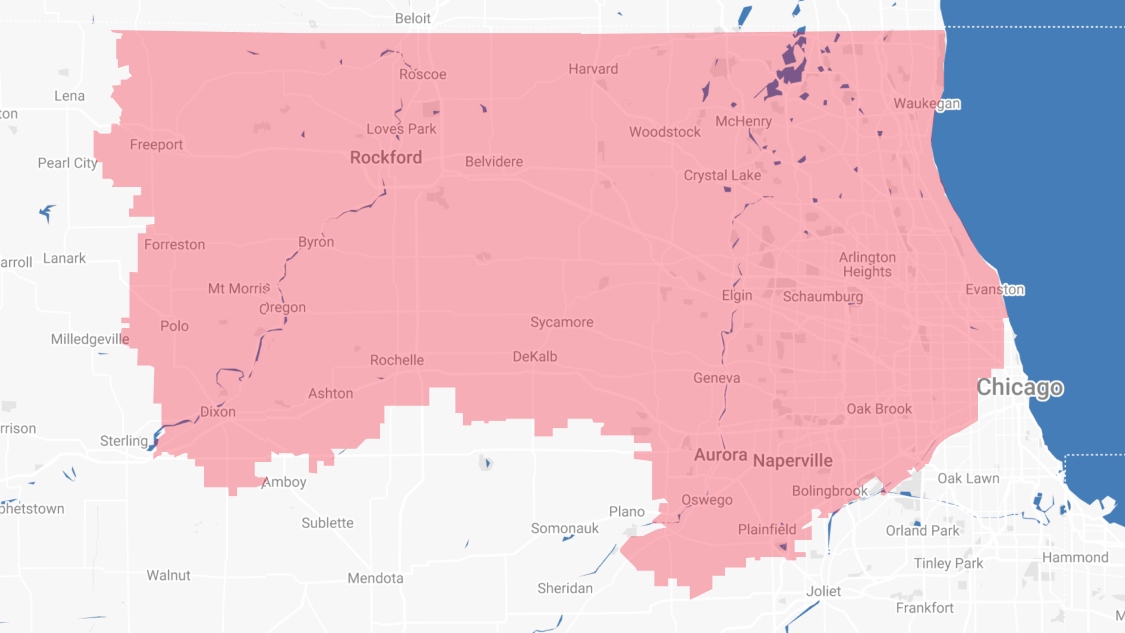 Proudly Serving
The Chicagoland Area
Addison | Algonquin | Antioch | Arlington Heights | Aurora | Barrington | Bartlett | Batavia | Beloit | Belvidere | Bensenville | Bloomingdale | Bolingbrook | Buffalo Grove | Byron | Caledonia | Capron | Carol Stream | And Much More!
VIew ALL