Residential Car Charging Stations
21st-century automotive technology is rapidly evolving. Since 2016, the number of electric vehicles on the road has more than tripled. And, for a long time, electric vehicle owners have pulled out the extension cords and plugged their cars into the wall. But, there is a better and more efficient alternative. Installing a dedicated car charging station in your home makes charging your car a fast and easy process so that you have the power you need to get up and go whenever you want to hit the road.
Residential Car Charging Station Installation
The team at Black Diamond Plumbing & Mechanical can install either a Level 1 or Level 2 car charging station in your home. Level 1 EV charging stations charge your vehicle with a 120-volt AC plug, giving you two to five miles of driving range for every hour the vehicle is connected to the charger. Installing Level 1 stations is fast and requires little more than a dedicated branch of your circuit.
Level 2 stations utilize a 240-volt AC plug. Depending on your vehicle, a Level 2 station can give you 10 to 60 miles of driving range for every hour the vehicle is charging. This is the fastest and most economical charging option on the market. Because most homes are already equipped with the 240-volt infrastructure required for appliances, these stations are also easy to install in homes throughout the area.
SCHEDULE NOW
Residential Car Charging Station Maintenance & Repair
EV charging stations are strong and sturdy and do not require significant maintenance. However, you will want to replace any commercial-grade electric outlets regularly. Our team of certified electricians is happy to perform this service and other maintenance or component repairs your system requires.
Residential Car Charging Station Replacement
EV technology is advancing at 100 mph. Today's technology will be tomorrow's old news. At Black Diamond Plumbing & Mechanical, our technicians maintain an up-to-date knowledge of the latest systems and installation techniques. As new technologies become available or your current system suffers a critical failure and needs replaced, it's our pleasure to help you select a more efficient car charging option.
Schedule Car Charging Station Installation Today
We'll give you the answers you need to make the best decision for your needs so that whether you're going for a Sunday drive or gearing up for a rush hour, your vehicle is always ready to go!
Do you have more questions about EV charging stations? Contact Black Diamond Plumbing & Mechanical's team of certified, licensed, and fully insured electricians at (866) 350-4793.
FAQs About Electric Vehicle Charging Stations
Do we sell EV charging stations?
We do not sell EV charging stations; rather, we install customer-supplied charging stations. Our team will ensure that the appropriate car charging station wiring is used and that the unit is properly connected and installed.
How often do you need to replace an EV charging station?
Since the technology is new, it's roughly estimated that systems will need to be replaced at 10-year intervals.
Can I use a damaged charge cord?
No, you should replace a damaged cord immediately. Whether you ran over it with the car or knicked it with a lawnmower, a damaged cord is a serious electrical hazard that can cause fire or electrocution.
Is preventative maintenance recommended for EV charging stations?
It most certainly doesn't hurt. As with all electrical systems, preventative maintenance can identify small problems before they cause major issues. In terms of EV charging station maintenance, we recommend periodic visual inspections, mechanical inspections, and electrical inspections to confirm the system is operating at optimal performance levels.
Request Service
Please fill out the form and we will get in touch with you shortly. We look forward to serving you!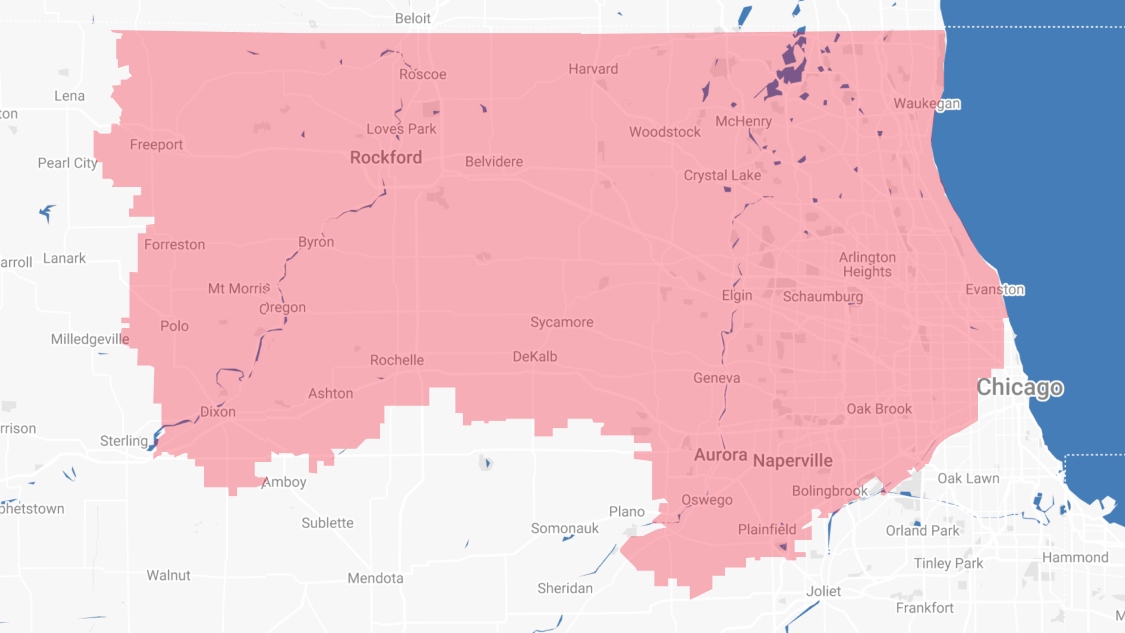 Proudly Serving
The Chicagoland Area
Addison | Algonquin | Antioch | Arlington Heights | Aurora | Barrington | Bartlett | Batavia | Beloit | Belvidere | Bensenville | Bloomingdale | Bolingbrook | Buffalo Grove | Byron | Caledonia | Capron | Carol Stream | And Much More!
VIew ALL